having trouble

seeing

the print?
גְּבוּל
register for fall classes
with Ulpan La-Inyan!
The Torah portion to be read this Shabbat by Jews around the world falls smack in the middle of the fifth of Five Books of Moses,

סֵפֶר דְּבָרִים

(SEH-fehr deh-vah-REEM) - The Book of Deuteronomy, or literally, The Book of Words.

ספר דברים

and its narrator, Moses, concern themselves primarily with preparing the Children of Israel for entering their land - present-day Israel - and thus a word that pops up over and over in the book, as well as in this week's portion, is

גְּבוּל

(gheh-VOOL) - border or boundary.
Despite the word's masculine gender, it appears feminine in the plural:

גְּבוּלוֹת

(gheh-voo-LOHT). However, since the word is masculine in the singular form, it behaves like a masculine noun, even in the plural, when described by an adjective. For example:
לְפוֹלִין יֵשׁ גְּבוּלוֹת אֲרוּכִּים בְּכָל הַצְּדָדִים.
Poland has long borders on all (the) sides.
(leh-foh-LEEN yesh gheh-voo-LOHT ah-roo-KEEM beh-KHOHL hah-tseh-dah-DEEM)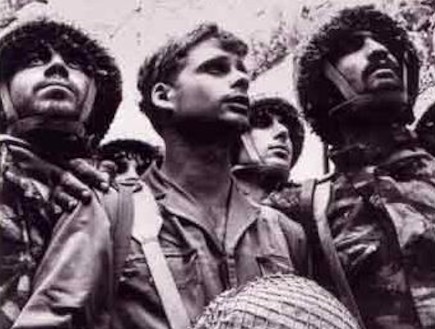 For instance, the term setting boundaries, in Hebrew, is

לְהַצִּיב גְּבוּלוֹת

(leh-hah-TSEEV gheh-voo-LOHT).
I find it interesting that the root of boundary -

ג.ב.ל

(g.b.l), is almost identical to that of bravery, manhood and heroism -

ג.ב.ר

(g.b.r). I am convinced that the two roots share a core concept, since the first two root letters are identical, and since the sounds l and r have a tendency to alternate among languages and sometimes within languages.

If you agree with me on the commonality, how do you understand the connection between

ג.ב.ל

and

ג.ב.ר

?
Use the "comments" form below to say your piece.
שַׁבָּת שָׁלוֹם וְסוֹף שָׁבוּעַ נָעִים לְכֻלָּם!
Shabbat Shalom, and a pleasant weekend to all!
(shah-BAHT shah-LOHM, veh-SOHF shah-VOO-ah nah-EEM leh-khoo-LAHM)